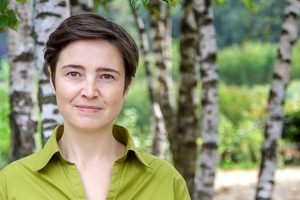 Listen to my voice, get an impression of me, my approach and my convictions: In this RBB-Podcast you can hear me speak – in German – about anxieties and my psychotherapeutic practice.
How does language influence me and the person I'm interacting with? What is it that makes me feel better after a good talk with a close friend? Why does mutual silence sometimes result in a feeling of comfort and serenity, at other times in anger and helplessness? What does love mean to me and what does it mean to the other?
I have occupied myself with these and other questions since adolescence. They inspired me to read plenty of fiction and to continue looking for answers by studying linguistics and literature and finally training in systemic therapy and open a practice for psychotherapy. I am especially fascinated by the possibility of controlling one's perception of reality in such a way that one's experience can be to a certain degree independent of circumstance. Philosophically, this idea is based on the fundamental concepts of Conceptualism. In practice, my work is characterized by humour, empathy and respect.
What distinguishes me professionally as counsellor and therapist:
Systemic therapist and counsellor
Heilpraktikerin für Psychotherapie
grief counselling and hospice work
counselling and therapy in a one-on-one as well as a co-setting with colleagues
Private experiences that have shaped me:
Sharing life with my young daughter
Two years in Cairo and the experience of the 2011 Egyptian Revolution
Six years of studying literature and literary translation in the UK and the reception of the doctorate from the University of London; the strong bond to and love for landscapes, literature and culture of the United Kingdom
A childhood in Berlin-Tempelhof in the 80s as one of four siblings